New Rootseal Technology: a Q&A with Steve Jeffries
In this post, we catch up with Steve Jeffries, our Product Manager for Foul Water systems to discuss an exciting new addition to the Wavin OsmaDrain system.

Tell us about Rootseal Technology, Wavin's latest below ground innovation?
Rootseal Technology is a new feature on the OsmaDrain system that is offered as standard at no extra cost. It features a scientifically proven inhibitor that gently repels roots, potentially extending the life of the pipe system and preserving performance of the system without affecting the surrounding trees, soil or wildlife in any way.
Why is root ingress a problem for below ground drainage?
Whilst best practice dictates that drains aren't located in the vicinity of trees, in reality they often do co-exist around homes.
In a residential setting, trees have to fight compacted soil and the climate change challenges of more heat and less water to grow, driving roots to hunt harder for water and nutrients. Below ground this is increasing the interaction between tree roots and pipes. Frequently drainage systems that carry the very thing the tree is seeking to survive: water, air and bio nutrients. In pipe systems, the most likely point of entry is at the joints.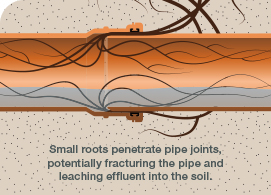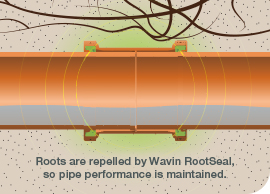 What are the possible impacts of root ingress?
If the roots' fine fibres do manage to penetrate the seal and are left unchecked, they can grow causing blockages and the possible leaching of effluent into the surrounding soil. Ultimately this can lead to additional costs for repair or replacement.
What types of developments could root ingress particularly be a problem for?
Trees are becoming increasingly common as a natural line of defence against warming cities and to enhance residential areas and residents' well-being. The more trees and vegetation there are, the more likely root ingress into pipes will become.
We want as many people as possible to enjoy the benefits of a future proof below ground drainage installation. The additional protection of Rootseal Technology is included as a no-cost addition across the Wavin OsmaDrain range means that any development can have the potential benefits of extended drainage system life and optimum performance.
What benefits could this have on overall sustainability of project?
Helping to extend the life of drainage systems, can help to reduce the environmental impact of repairs and replacements. By helping drainage systems to co-exist with trees and vegetation, Rootseal Technology can help to increase biodiversity and flood resilience of a development. Rootseal is also environmentally safe and will not damage surrounding soil, trees or wildlife.
What additional value can Rootseal Technology add for property owners?
By repelling tree roots, RootSeal can stop a domino effect of problems before they start. With a key cause of blockages avoided, remedial action is avoided too No widespread disruption and upheaval. No pulling up trees, removing earth and delivering materials to carry out costly repairs and replacements. And there is no leaking of raw sewage into surrounding soils from pipe breakages.