Underfloor Heating System Selector
Selecting an underfloor heating system can be tricky – with so many different options available, it's often hard to know which one is best for your project.

Follow the flowchart to find out which underfloor heating system is right for you.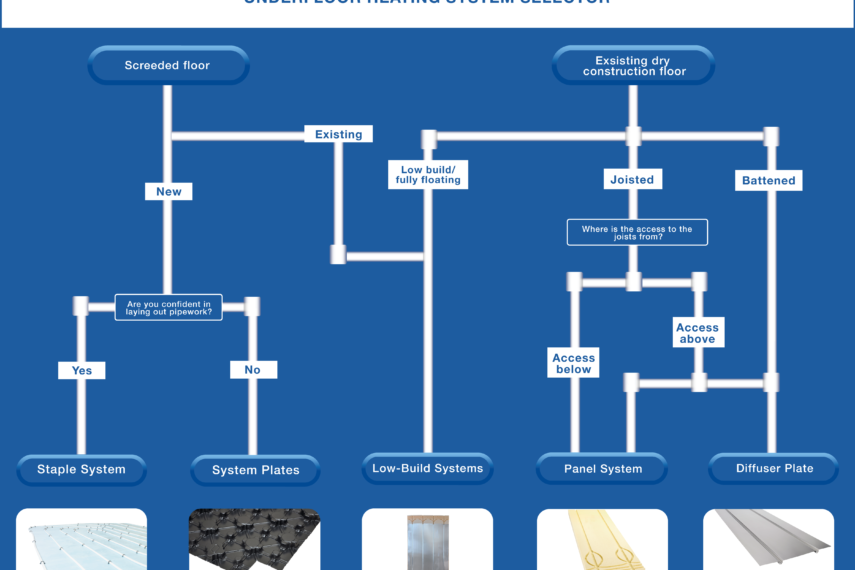 To open in full size, please click here.
Panel system
These systems can be fitted on top of and in between existing flooring, and are well-suited to refurbishment projects.
Diffuser plates
These stand-alone plates conduct heat and sit on top of insulation panels in battened floor installations, or joisted floor installations where access is required from above the floor.
Staple system
Installed before the floor is screeded, staple systems are a great option if you're confident laying out the pipework, as there's no set structure to follow. This also offers enhanced flexibility in design.
System plates
System plates are plastic sheets with pre-formed grips that hold the pipe in place, ensuring quick and easy installation. Like staple systems, system plates are installed before the floor is screeded.
Low-build systems
Low-build systems have been specially designed to keep overall floor height to an absolute minimum, making them ideal for use on existing floors. The panels feature pre-routed channels for quick and easy fitting of Hep2O pipe.
Check out Wavin's underfloor heating website for even more guidance on selecting the right underfloor heating system, and to get a comprehensive quotation in three simple steps. Find out more here.