Talking Products: Wavin Tigris K1 Press-Fit
In our Talking Products series, we take a closer look at some of Wavin's most innovative plumbing products. We'll be helping you get to grips with key features, benefits, and where to use them. This month, it's all about Tigris K1.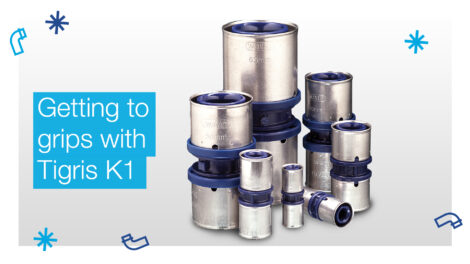 Name: Wavin Tigris K1 Press-Fit
Job: An award-winning multilayer press-fit system for potable water, sanitary and heating applications.
Okay, sounds like a good option for connecting pipes. Is it for plastic or copper? K1 works with both plastic and copper– it's friendly like that. It's a flexible system that reduces the amount of fixings needed to hold everything in place. This also allows it to be easily installed within walls and other areas that have restricted space.
It sounds perfect. But is this going to go all 'England in a penalty shootout' and fail to live up to the hype? Nope, it's the culmination of decades of precision engineering. It carries a 10-year guarantee, with DGWA and KIWA approvals (that's important, trust us). It's tested and certified to BS 6920:2000 and ISO EN2100 (also important). It is also WRAS approved.
There are many freely available online resources in case you need some extra support too.
Can you say the same about Southgate?
Bag your free sample here.